ART POST UKI
Supporting Artists, Supporting Community
Since our first exhibition in February, we have raised over $14,000 for local artists. Art Post Uki has also supported the community by developing a unique opportunity for locals and visitors to engage in a special way. If you would like to exhibit at Art Post please contact us to discuss the opportunity further.
The Art of Children's Books| February 2018
Matt Ottley is an award winning multi-modal artist, working equally across the fields of literature, visual arts and music. Matt has had 35 picture books published and his work also appears in more than thirty nonfiction books. His awards include the CBCA Picture Book of the Year and both the Queensland & NSW Premiers Awards for literature. His international awards include Ibby Honour Book for Australia and a White Ravens listing, Bologna. He is also an Endorsed Yamaha Musician and currently works as a composer with the West Australian Symphony Orchestra. 'For me the ancient art of book illustration is ironically not about the words in the story. As a story unfolds, the paintings connect the author's words with the reader's own lived experience.'
View photos from the launch on our Facebook page.
Bold Yet Tender | March 2018
Heather McClelland's BOLD YET TENDER exhibition was inspired by the local geography and takes in an eclectic mix of portraiture, life drawing and landscape. The works which were on display at Art Post Uki were part of her new series "Contours of the Caldera"'.
"I enjoy creating layers in my work, playing with colour and print effects, says Heather. In my search for form and perspective surprises often spring to life on the canvas".
Heather and her husband Brian arrived in Uki in 2010 and have cemented a place for themselves within the local community through art, charity work and music. Heather has had a career as secondary teacher and therapist, and taught for eight years in Bangladesh, where she and Brian formed an ongoing relationship with an NGO called Symbiosis. Symbiosis supports marginalised women in the north of Bangladesh and profits from sales of her work go to that organisation.
An Intimate Nature | May 2018
Tina Wilson received a Bachelor of Arts (Visual Arts) from Newcastle University, majoring in Plant and Wildlife Illustration in 1996. She has worked as a visual artist and graphic designer across Australia for over 20 years.
While living in Perth and working as a graphic designer, Tina created Western Australia's very own national art prize – the Black Swan Prize for Portraiture. As its founder and executive director for ten years, she was delighted to see it grow into Australia's third richest portrait prize and the only one of its kind in WA.
In 2013 Tina was awarded the City of Perth Premier's Active Citizenship Award for her contribution to the arts. The Black Swan Prize for Portraiture is now proudly exhibited at the Art Gallery of Western Australia each year.
Following its success, Tina resigned in 2017 to return to her own creative practice.
Tina now lives with her partner in Uki, a small village in the Northern Rivers, NSW. She spends her time painting, drawing, writing, curating exhibitions and creating children's books.
View photos of the launch on our Facebook page.
Dark Fables| June 2018
Julia was born in Scotland and spent her early childhood in London. It was during this time when she spent long summer holidays on a remote island off the coast of North Wales that she developed her
passion for drawing and art.
After an overland journey to Australia in 1961 her family permanently migrated in 1965 and made Sydney their home. Her father, Peter Collingwood was a well-known stage and TV actor in both the
UK and Australia and her mother, Margery also worked in the theatre and was an actress.
In 2017 single and with her family grown Julia, decided after working in Darwin for five years to relocate to Uki, where she now lived for more than a year.
Julia's inspiration for Dark Fables was not conscious but likely rose from her earlier years in England (the rain, the bleakness), her renewed interest in British artist such as Francis Bacon and the poetry of Ted Hughes, and her love of black and white films
The Bone Repository | August 2018
Christine's exhibition featured the fascinating and unexpected work focussed on Memento Mori (an object kept as a reminder of the inevitability of death) by Uki artist, Christine Mellor.
"There's a certain fascination we hold within our culture about death, and the Still Life genre of Memento Mori is a successful means to discuss a number of topics often associated with it – including mortality, the inevitability of death, and the beauty which arises as a result of death, says Christine.
Christine is very much a local. She was born in Murwillumbah, and spent her childhood growing up with her family in the Chillingham General Store. Through necessity she had to defer her hopes of studying art and with her husband Garry and children settled in Tyalgum before moving to Uki in 2011.
After 27 years of working together in the construction industry, Christine was able to follow her dream by completing a Certificate 1 Visual Arts course at TAFE Murwillumbah continuing onto the Advance Diploma of Visual Art culminating in an exhibition at the beautiful Art Piece Gallery at Mullumbimby.
After three years of commuting to Brisbane, Christine graduated in 2017 with a Bachelor of Fine Art from Queensland College of Art. It is now her dream to create work with concepts revolving around the complications, mysteries and pleasures of life and death.
September 2018
David Preston mentored children of the Uki Primary and they responded with imaginative and unique works that reflected their love of making art and their environment.
Self Evolution | October 2018
As a Uki resident of only two years, Michael says he is now finding the motivation to expand his personal technical and broaden his expressive limits. This exhibition will not only represent him in recent years but, more importantly, provide a point of departure into a less safe and guarded creative space
Sacred Gaia Healing | December 2018
Stokers Siding Artist Lynden Stone presents an exhibition of artwork and performance from her Sacred Gaia Healing™ project which scrutinizes blatant capitalist tactics that target New Age naivety. Stone states, "these capitalist tactics offer over-valued, spurious services and products that demean any possible underlying merit in metaphysical beliefs. It is not these beliefs that I seek to critique. Nor do I wish to demean people who genuinely hold New Age beliefs, however radical. Rather, my target is exploitative capitalist practices such as co-opting ecological concerns, quantum physics and Gaia/Earth worship to rationalise and promote bogus goods and services."
Horizons and Beyond | January 2019
Dieter's love affair with the Australian bush began in 1971. "I instantly fell in love with the bush and Australian light. I loved the expansion of the landscape and the big sky just blew my mind." Dieter said he felt a freedom he never felt in the European Landscape." In 1971 Dieter migrated to Australia and a whole new way of life- marriage, children. 1976 his first exhibition at the Hogart Gallery in Sydney. Dieter was encouraged to study art and enrolled at the Academy of Art in Mannheim where for one year he was in the master class of six students tutored by the expressionist Artists Paul Bergner and Hans Meistermann. After his four years at the Academy he became a practising artist and taught at the Rudolf Steiner primary school in Frankfurt for two years. In 1969 he was one of three young artists who opened their own gallery in Gross-Gerau as well as exhibiting their own work in Russelsheim, Weinheim and Heidleberg.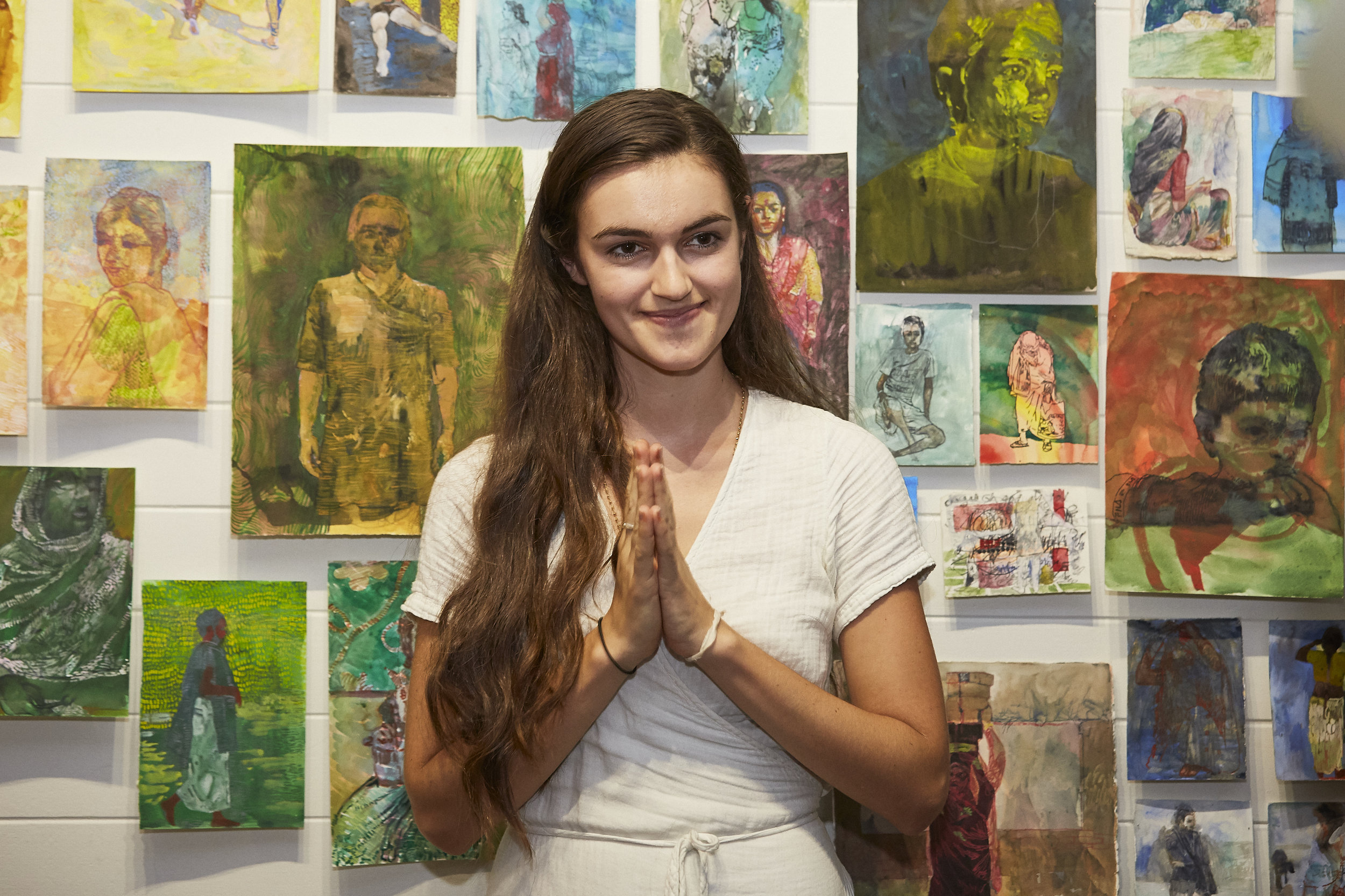 Am I Dancing Alone | March 2019
200km east of Delhi there is a village that is considered one of the most significant places of pilgrimage in India, Vrindavan Dham. The people who live there are known as the Vrajbasis, 'the people of Vraj'. The Vrajbasi's are considered some of the most devout Krishna devotees, the deity of Krsna quite literally being their life and soul. From September 2017 to April 2018 Vrinda lived amongst Vrajbasi devotees and observed the daily going-ons of their lives.
What started as a visual diary evolved as both a daily meditation and an exploration of 'spiritual work'. As concepts, Vrinda often think of 'spiritual work' and 'material work' to be two very separate activities. Vrinda says, we are either praying or working. This binary between the things that are sacred in our day and those that are mundane permeated her religious upbringing. But does this binary hold strong when it comes to the lives of the Vrajbasis?
Over eight months of watching, looking and gazing at the village that she inhabited, what interested her most was that often, when she really observed what was happening in front of me, when the moods and changes of the Vrajbasis truly surfaced, there was little difference between the sway of the Brahmins in the temples and the stride of the Bhangis in the streets, all were engaged in acts of devotion. Devotion within work, within any kind of work, was an idea that began to inspire my own practice.
'Am I dancing Alone' is in all senses a personal project for Vrinda. It manifested from a desire to connect with a people Vrinda has long observed. From her own sense of foreignness she began to create portraits, and through portraiture, she was able to see some of the values and characters of the Vrajbasis and so her role in the village felt a little less like someone dancing alone.
April 2019
Aetaomah, is a small school, kindergarten to year 8, based on the educational work of Dr Rudolf Steiner. They are nestled in the picturesque hills below Mt Warning, 10km south-west of Uki, beside the upper reaches of the Tweed River.
Aetaomah, educates through the arts and imagination, by making things, enjoying outdoor activities and agriculture; in this way they believe they can creatively inspire the inquiring mind, delicately foster the child's emerging thinking, care for the physical and emotional health and nurture social and leadership skills
Grevilleas, Bandicoots and Snake Charmers | May 2019
Uki itself is not quite sure who it is – there is quite a bit of confusion as to what the name means, who named it – and indeed to which language it belongs. But much like its short but complicated name, Uki is a small village with a big presence, full of people who care about each other and the planet. It is a place of inspiration and charm , nestling in the shadow of Wollumbin (Mt Warning).
After 30 years of teaching secondary school art in Melbourne, I, with my husband David, made the move to the magic lands of the Northern Rivers where I have been able to concentrate on developing my own art practice. I had the great good fortune in 2016/17 to have been offered an exhibition at the Tweed Regional Gallery in Murwillumbah, a fabulous experience and (incidentally) a sellout! I am continuing some of the themes of that show in this present collection, although animals and not mermaids are merging with and interacting with all those grevilleas and not a few pythons. (there are indeed a couple of bandicoots as well – Uki apparently means 'bandicoot' in one version of the origin of the name).